Pocket Finance Diary is a fast and easy to use personal financial management software that focuses on managing your daily transactions. It allows you to run all your finances from your handheld. You can create multiple accounts with different currencies, define any categories and subcategories, create multiple budget planning projects, create reports show where your money goes.
Using Pocket Finance Diary you will have more income available, and you will perform your expenses in a more efficient manner.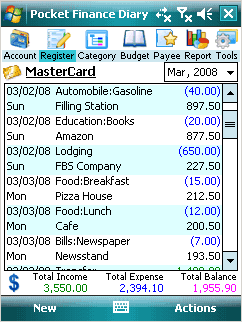 Pocket Finance Diary for Windows Mobile Version 3.0.2 is released: download here.
Main Features:
Powerful Register View
Multiple Accounts with Different Currencies
Versatile Category and Subcategory
Budgets and budgets groups
Payee Center
3D graph interactive reports
Transfer between Different Accounts
Manual and Automated Backup
Support Landscape mode operation.
Database file for storing entries and settings
Export to CSV
Compatible with the Pocket PC 2003, Windows Mobile 5, 6 OS
You may use Pocket Finance Diary v3.0 free for the first 30 entries. After the 30-entry trial period expires, you may purchase PocketFinanceDiary at Handango. After you have made the purchase, your registration code will be emailed to you and you may unlock the program.
Pocket Finance Diary Lite is a completly FREE Software. It contains absolutely NO ADWARE, NO SPYWARE, NO REGISTRATION, NO POPUPS, NO MALWARE or other unwanted software.